Did you set any New Year's resolutions this year? Many people resolve to be healthier at the start of a new year. If you have determined to exercise more and have the space for an exercise room in your home, we can help you with the flooring! An in-home workout room is a great way to make exercise easy – you don't even have to leave your house!
When it comes to building a room dedicated to exercise, you want to start from the bottom up. Flooring is so important for a workout room. Here are some important qualities you'll want in your exercise room flooring:
Shock absorbent
Durable
Affordable
Easy to clean and maintain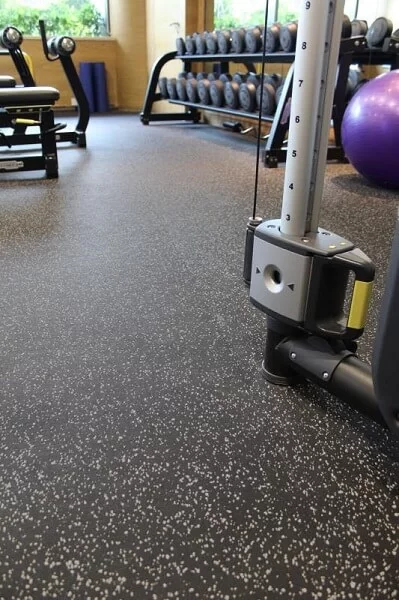 Rubber flooring is the most popular type of floor that meets all the above requirements. The most popular one we sell at Hopkins Carpet One is a black rubber floor with white flecks. We have this as either rolled goods (the most popular) or interlocking tiles. Both are fairly easy to install and can be done as a Do-It-Yourself project or by our expert flooring installers.
Rubber flooring will protect your floors from damage due to equipment or dropped weights. In addition, it is easy to clean by simply sweeping or vacuuming then mopping or hand scrubbing with mild soap.
Rubber floors ensure a safe and comfortable workout by providing padding and support to protect your joints from undue stress. It also provides traction to prevent slips and falls.
So, what are you waiting for?
Visit Hopkins Carpet One today and get started on your home exercise room so you can begin a regular workout routine and meet your New Year's goals!
For rubber flooring and more, visit our showroom in Hopkins Center,
call 952-933-8944 or contact us! We look forward to helping you get the new year started off right!